Via the use of an NFC-enabled device, such as a smartphone or smartwatch, Near-Field Communication (NFC) payment technology enables contactless transactions. This method of payment employs virtual card information kept on the smartphone rather than actual credit cards or cash, which removes the need for both.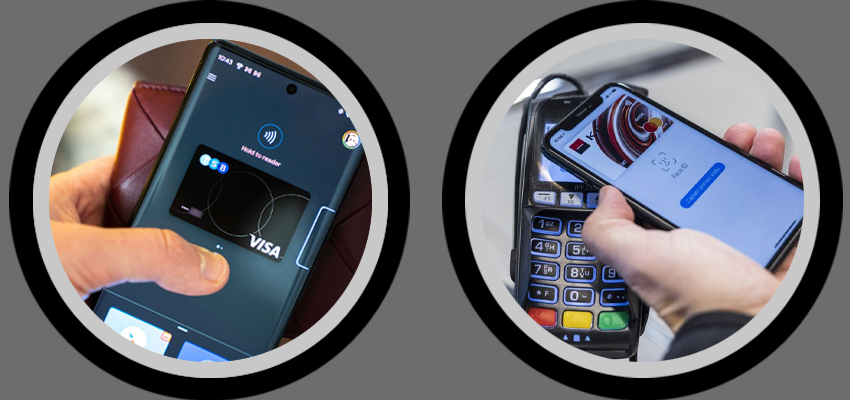 Convenience improved security, and quicker transaction times are a few advantages of adopting NFC payment. What precisely does place during an NFC payment transaction, though? This is a comprehensive manual.:
What is NFC?
The NFC technology enables the communication between neighboring devices, often within a four-inch range. It is frequently utilized for activities like information sharing or pairing with wireless headphones, but it also supports contactless payments.
When used to make payments, NFC technology sends credit or debit card data that is stored on the device securely to a payment terminal. To complete the transaction, the terminal will subsequently get in touch with the customer's bank.
The entire transaction takes place in a matter of seconds, making NFC payments a speedy and practical choice for customers. With simply a tap or wave of your smartphone, you may leave.
How to Use NFC Payment?
Consumers must first make sure their gadget has Near-Field Communication capabilities before using NFC payment. The last step is saving virtual card information on the smartphone, either using the wallet software that came with it or a different mobile payment app, like Apple Pay or Google Pay.
The customer only has to confirm the transaction on their smartphone and hold their device close to the payment terminal (POS) to make a purchase. It's that simple!
Card Emulation
Besides NFC mobile payments, NFC technology can also be used for card emulation. This means that a physical credit or debit card with an embedded NFC chip can mimic the function of a virtual card stored on a device.
Card emulation allows for contactless transactions without the need for a separate smartphone or smartwatch. Instead, consumers simply use their physical card to tap or wave at the payment terminal.
This technique is becoming more common in the payments industry, as it offers convenience and added security to traditional card transactions. Additionally, it eliminates the need to swipe or insert a card into the POS, making for even faster checkout times.
NFC Payments for Businesses
Businesses can also benefit from using NFC technology for payments. In addition to the added convenience for customers, it can streamline business operations and reduce the cost of accepting credit or debit cards.
However, businesses must invest in a POS system that supports NFC payments. Such terminals are installed with an NFC tag reader that continuously releases a radio frequency, allowing for contactless transactions to occur.
Whenever a customer wants to use NFC payment, they simply hold their device/card near the POS to initiate the transaction. The NFC chip will receive the radio waves and release the necessary card information for the payment to be processed.
However, most cards/apps have security measures in place to prevent unauthorized use. For example, tokenization technology may be used to generate a unique, one-time code for each transaction to prevent fraud.
This way, you can offer a seamless payment experience for your customers. You will also have access to useful data and insights, allowing you to further optimize and enhance your business operations.
Benefits of NFC Payments to Customers?
Customers are increasingly seeking convenient and secure payment options. NFC payments offer both of these benefits, allowing for a smooth and efficient transaction process. When they walk into a store, customers can simply tap or wave their device to pay without having to fumble with wallets or remember their physical cards.
In addition, they don't have to worry about exposing sensitive information at the POS terminal as NFC technology uses secure encryption to protect personal and financial data. This added layer of security can give customers peace of mind when making a purchase.
Besides, most NFC payment options are widely accepted at major retail stores and restaurants, making it a versatile and practical choice for customers. You will no longer carry large amounts of cash whenever you're going out and can easily keep track of your spending with transaction records stored on your device.
Benefits of NFC Payments to Retail Outlets
Retail outlets can also experience several benefits from adopting NFC payment options, including:
Improved Customer Experience. You can offer a convenient and secure payment option for customers, leading to satisfied customers and repeat business. This high level of service can also lead to positive word-of-mouth and enhance your brand image.
Streamlined Transactions. NFC payments eliminate the need for traditional card swiping or inserting, leading to faster checkout times and improved overall efficiency. Your customers will no longer have to wait in long lines, leading to a more enjoyable shopping experience.
Reduced Costs. Using NFC technology can also reduce the cost of accepting credit or debit cards, as it eliminates the need for additional equipment and associated fees. Additionally, digital receipts and transaction records can lead to cost savings for your business.
Improved Data Insights. With NFC payments, you will have access to valuable data and insights, such as spending patterns and customer demographics. This can help you optimize and enhance your operations, leading to greater overall success for your business.
Which Businesses Can Implement NFC Payments?
NFC payments can be implemented by any business that has a POS system that supports it. This spans industries such as retail, hospitality, and transportation.
However, smaller businesses may need to upgrade their existing POS terminals or invest in new ones that support NFC technology. Many major banks and credit card companies also offer contactless options for their customers, making it easier for businesses to adopt this payment method.
Additionally, businesses can offer NFC payments through mobile wallets and apps, such as Apple Pay and Google Pay. This can further expand the reach and accessibility of this payment option for customers.
Overall, implementing NFC payments is a smart investment for businesses to stay current with evolving technology and offer convenient options for their customers. It can lead to improved customer satisfaction, streamlined transactions, and potential cost savings for your business.
Relevant articles