Established in 2008, Shenzhen Xinyetong Technology Development CO., LTD is an industry-leading professional manufacturer and exporter of smart cards and RFID labels. After more than ten years of development, our company has achieved strong R&D strength and modern production base, products including the RFID bracelet, RFID tag, RFID card, RFID inlay, key chains, epoxy label, noncontact IC card and so on. Those products are widely used in security, transportation management, warehouse management, supply-chain-logistics, library, campus card, shopping malls, hotels, and other fields.
We always adhere to the business philosophy of "quality first, customer first" to provide quality products and services for global customers. With this philosophy, our products have won the favor of domestic and foreign markets. Millions of RFID products are exported to the word. Meanwhile, we have established strategic partnerships with world-renowned semiconductor corporations like Philips, ISSI, TI, SIMENS, IMPINJ, EM, ATMEL, etc.
As always, our company will hold on the pursue of excellence in quality and sincere service, providing clients with better and superior products, which leads to a win-win business!
OUR SERVICE


PRODUCTIVITY
Our factory, with more than 10 years of manufacturing experience, covers an area of more than 1500 square meters. We constantly introduce advanced production equipment and set up 3 leading modern production lines. With the most advanced technology and processes, to serve the customers in high quality and efficiency is our unique characteristic.


CERTIFICATIONS
Our Company has advanced detection equipment, strict quality management system ensuring product quality. Each of our products has been strictly online testing and other tests. And our products have achieved the number of International Standard Certificates, such as ISO 9001, European ROHS certification, CE certification.


International IOT Technology and Smart China Exhibition


Customer Reviews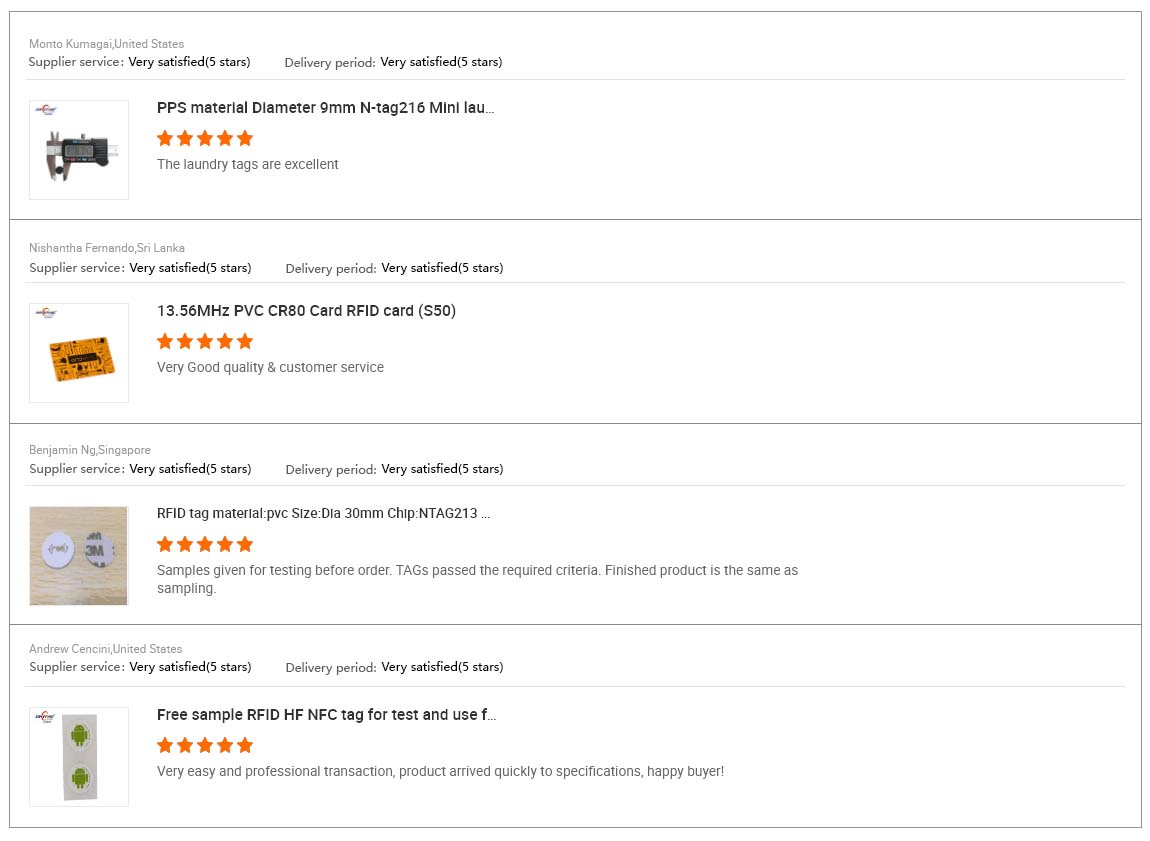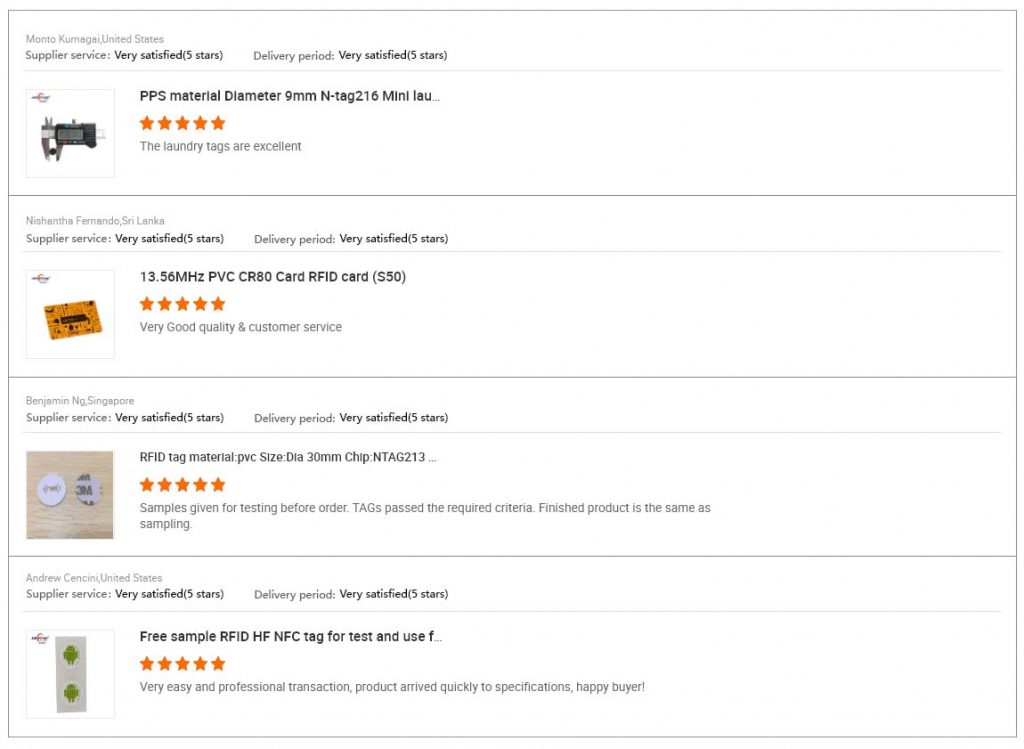 Product Catalog
This is Product Catalog. They are parts of our products we can offer. If you have any other requests, we can also provide custom ones for you
Available UHF RFID Inlay
This is Available UHF RFID Inlay. They are parts of our products we can offer. If you have any other requests, we can also provide custom ones for you.
Available HF RFID Inlay
This is Available HF RFID Inlay. They are parts of our products we can offer. If you have any other requests, we can also provide custom ones for you.
RFID Chip Technical Parameter
This is RFID Chip Technical Parameter. They are parts of our products we can offer. If you have any other requests, we can also provide custom ones for you.
1/ What is the purchase procurements?
Send your purchase order and your company billing info to our sale team.
We will send you the PI (proforma invoice) for the payment.
We will send you the order confirmation for signature.
The order will be started after payment received.
We will inform the delivery when the shipment is ready, and send you the tracking number after delivery.
2/ What's the payment terms?
Paypal is preferred for sample order. For bulk order, Western Union and T/T are acceptable.
3/ What's the artwork specification?
EPS, AL files are preferred. CDR is ok. TIF and JPG at 300dpi are acceptable.
4/ What is the lead time?
Samples within 1-5 days; Quantity below 10K within 7-15 days; Bulk order within 30 days.We will also confirm the delivery date based on the requirements of each order.
5/ Can you provide your stocking samples for free?
Yes, stocking free sample can be offered to you, but you should take care of the shipment.
6/ We have very strict requirements on color, can you follow that?
There are Heidelberg offsetting printing, silk printing, and digital printing to meet different printing requirements.
Also, sample printing will be made for your approval before bulk production.
We take all cost to reproduce if the printing mistake caused by us.
7/ How do you handle after-sale problems?
We have a strict quality control system. 3 times QC, from raw material to the finished products.
Quality is our culture
12 months of quality guarantee since the dating of delivery.
We promised Fresh PVC material for card printing.
No dust, no scratches on the card.
Each card will be tested before packing.
8/ What is the shipment way?
According to the weight of the shipment, we will suggest you the proper way DHL/TNN/UPS/FEDEX/By Air /By Ocean (sea), which helps you to save time and money.
9/ Value-added Service in custom clearance
We can support you to get CO, Form A/E, SASO, CI, PL or any other required documentation required for customs clearance. Kindly inform us before delivery if need.
PRIVACY POLICY
Privacy Policy Introduction
Shenzhen XinYeTong Technology Co., Ltd respects your privacy and takes your online safety seriously. To provide you with the best products, efficient customer service, and timely updates, we record a variety of information from your visit to our site. To better protect your privacy, we provide the notice below explaining our online information practices and the choices you can make about the way your information is collected and used.
How we collect your personal data?
The following types of personal information may be collected, stored, and used:
1. Information about your computer including your IP address, geographical location, browser type and version, and operating system
2. Information about your visits to and use of this website including the referral source, length of visit, page views, and website navigation paths.
3. Information that you enter when you register with our website, such as your email website.
4. Information that you enter when you create a profile on our website. For example, your name, profile pictures, gender, birthday, relationship status, interests and hobbies, educational details, and employment details.
5. Information that you enter in order to set up subscription to our emails and/or newsletters.
6. Information that is generated while using our website, including when, how often, and under what circumstances you use it.
7. Information relating to anything you purchase, services you use, or transaction you make through our website, which includes your name, address, telephone number, email address, and credit card details.
8. Information that you post to our website with the intention of publishing it on the internet. 9. Any other personal information you send to us.
How to use your Personal Information?
Personal information submitted to us through our website will be used for the
purposes specified in this policy or on the relevant pages of the website. We may
use your personal information for the following:
1. Administering our website and business
2. Personalizing our website for you
3. Enabling your use of the services available on our website
4. Sending you goods purchased through our website
5. Supplying services purchased through our website
6. Sending statements, invoices, and payment reminders to you, and
collecting payments from you.
7. Sending you on-marketing commercial communications
8. Sending you email notifications you have specifically requested.
9. Sending you our email newsletter if you signed up for it (you can
unsubscribe at any time).
10.Sending you marketing communications relating to our business or the
businesses of third parties which we think may be of interest to you.
11. Providing third parties with statistical information about our users.
12. Dealing with inquiries and complaints made by or about you relating to
our website
13.Keeping our website secure and prevent fraud.
14.Verifying compliance with the terms and conditions governing the use of
our website.
15. Other uses.
If you submit personal information for publication on our website, we will publish
and otherwise use that information in accordance with the license you grant us.
Your privacy settings can be used to limit the publication of your information on our
website and can be adjusted using privacy controls on the website.
We will not, without your expressed consent, supply your personal information to
any third party for their or any other third party's direct marketing.
Contact Us
If there are any questions regarding this privacy policy you may contact us.
You can choose the preferred shipping method during your checkout process.For the majority of products,www.asiarfid.com would provide you with choices on the page of "Order Information" .
You are supposed to select the best based on the size and destination of your order.
Beyond that, we also cooperate with a number of leading shipping companies including DHL, EMS, FedEx, Hongkong Post, and UPS, in order to serve a wide range of destinations for our global service.