Are you wondering how to use NFC on your iPhone? This technology will help you share data and make payments with just a simple touch. This guide will show you how to use NFC on your iPhone!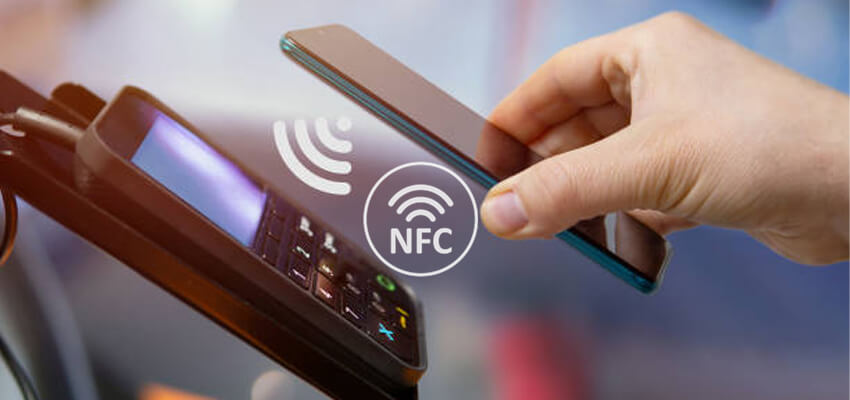 What is NFC?
NFC stands for Near Field Communication. This technology allows two NFC-enabled devices to communicate and implement various tasks such as data sharing and making payments.
However, the technology is short-range, meaning that both devices need to be close to each other (around 4 inches or 10 centimeters) for the NFC connection to work.
How to Know Whether Your iPhone is NFC-Enabled?
All iPhones from iPhone 7 and above have NFC technology. So, if you own an iPhone 6s or earlier model, your device does not support NFC.
To check whether your iPhone is NFC-enabled, go to Settings -> Control Center and check the NFC Tag Reader option. If the option is there, it means your device supports NFC.
If the option is not present, then your device does not have NFC support, and you won't be able to use this feature.
How to Use NFC on iPhone?
Now that you know whether your device has NFC support or not, let's take a look at how to use NFC on your iPhone!
There are two ways to use NFC on your iPhone – through apps and the Control Center.
The best way to use NFC on your iPhone is by using NFC-enabled apps. These apps are designed to take advantage of NFC technology and make it easier for you to perform various tasks.
Some of the best NFC-enabled apps that you can use are Apple Pay and Google Wallet. These apps allow you to make payments by simply touching your iPhone to the NFC reader.
To use these apps, you first need to set them up and add your credit or debit card information. Once you have done that, you can start using NFC to make payments.
To use NFC with Apple Pay, hold your iPhone near the contactless reader with your finger on the Touch ID. You will see a quick vibration and beep, which means the payment has been successful.
In addition to making payments, you can also use NFC-enabled apps to share data with other NFC-enabled devices. To do this, simply touch the two devices together, and the data will be transferred automatically.
In addition to using apps, you can also use the Control Center on your iPhone. The Control Center is a feature that allows you to quickly access various settings and features on your device.
You can access the Control Center by swiping up from the bottom of the screen. Once you are in the Control Center, look for the NFC Tag Reader option and tap on it.
The NFC Tag Reader will now be activated, and you can hold your iPhone close to an NFC tag to read its contents. This is a great way to quickly get information about products and services.
How to Write an NFC Tag Using iPhone
Besides the above-highlighted applications, you can use your iPhone to write a blank NFC Tag. This option enables you to store data on an NFC tag so that other NFC-enabled devices can read it.
To write an NFC tag, you need an app that supports this feature. One of the best apps that you can use is the NFC Tools.
Once you have installed the app, open it and tap on the Write Tag option. Now, select the type of data that you want to store on the NFC tag.
You can choose from various options, including URL, Phone number, and Contact information. Once you have selected the type of data, simply enter the required information and tap on the Write button.
Place your blank NFC tag on the back of your iPhone and wait for the app to write the data on it. Once the process is finished, you will see a pop up confirmation message.
You can now take the NFC tag and place it on any surface. When another NFC-enabled device comes in contact with it, the stored data will be read automatically.
How to Create/Trigger an iOS Shortcut Using NFC
You can also use NFC to create an iOS shortcut. This feature allows you to quickly access a specific action or app on your device by simply touching it to an NFC tag.
To create an iOS shortcut using NFC, you need to have the Shortcuts app installed on your device. The Shortcuts app is a free app that you can download from the App Store.
Once you have installed the app, open it and tap on the automation option. Now, tap on the Create Personal Automation button and select the NFC option.
On the next screen, you need to select the trigger. The trigger is the action that will activate the shortcut. For this example, we will be using the arrival of an NFC tag as our trigger.
Now, you need to select the action you want to perform when the NFC tag is detected. For this example, we will be opening the Camera app.
You can also add multiple actions to the shortcut. Once you have added all the desired actions, tap on the Next button and name your shortcut.
Tap on the Done button and place your iPhone close to an NFC tag. The shortcut will now be activated, and the selected actions will be performed automatically.
Examples of NFC Uses with Your iPhone
There are numerous ways in which you can use NFC with your iPhone, including:
Making mobile payments
Sharing data between devices
Creating shortcuts for quick access to apps and actions
Scanning product tags for information
Opening doors and locks with NFC-enabled access control systems
Automating your home
As you can see, NFC is a versatile technology that can be used for several purposes. With the help of this guide, you can make the most out of this feature on your iPhone.
Relevant articles