XINYETONG professionally produce the Inkjet PVC cards and ID card trays. You can find any Inkjet cards that you want, standard card or non-standard card, with chip or no chip, IC card or ID card, magnetic Card, etc. You can't find another professional and reliable manufacturer rather than us.
With excellent quality and good reputation, it's getting more and more favor and recognition on the local and international market. And it has passed ISO9001 quality management system certification ISO14001 environmental management, OHSAS18001 occupational health and safety management.

1\ NON-STANDARD INKJET PVC CARD DESCRIPTIONS
Non-standard Inkjet PVC Card is one of Inkjet cards that can directly print any cards you want by an Epson or Canon Inkjet Printer without a complex making-card process. There is little difference between Non-standard Inkjet Card and standard Inkjet Card which is that a non-standard inkjet card can be any size and shape other than the standard card size 85.5 *54mm.
Inkjet PVC Card is convenient, low cost, and can easily make various personalized cards, like membership card, student card, company card, personalized photo card. It is widely used in the field of library management, clubs, visiting, promotion, advertising, enterprises, banks, traffic, insurance, super markets, parking lots, access control, hospitals, exhibition centers, organization, campus, entertainment, etc.
2\ NON-STANDARD INKJET PVC CARD FEATURES
Our PVC Inkjet Card can achieve photo-level printing effects through inkjet printing and features quick-drying, high gloss, waterproof, wear-resisting, etc. It will not be melted even in water, if it is accidentally touched the water, just gently wipe the surface of the water stains and will not have any effect on the original print effect. Additionally, our inkjet PVC ID cards can suit for inkjet printers like Canon and Epson printers.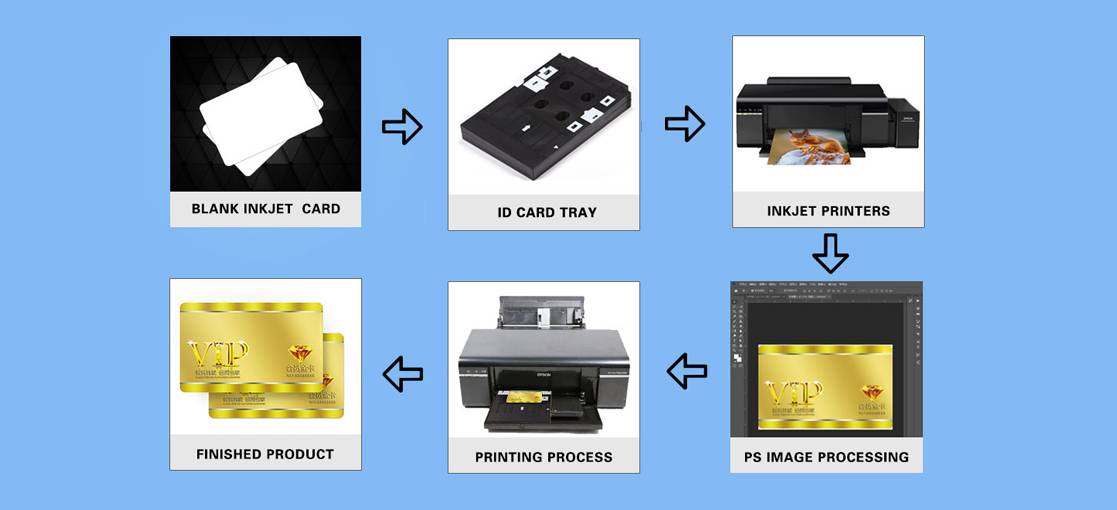 About The Epson Printer Type (Need CD Printing Function):
R230/R300/R200/R220/R320/R310/R350/R210 , R290, P50, Artisan50, T50, T60, R390, L800 Tx720wd, Px700w, Px800FW, Px665, px660,RX680, R260, R265, R270, R280, R285, R380,etc.
About The Canon Printer Type (Need CD G Printing Function):
PIXMA IP4600 IP4700 IP4680 IP4760 IP4850 IP4950 IP4840 IP4940 IP4820 IP4920 IP4880 IP4980 IP4870 IP4970 IP4810 IP4910 IP4830 IP4930 Ip7240 MP630 MP640 MP980 MP990 MG5250 MG6150 MG8150 MG8250 MG5250 MG6140 MG8140 MG5220 MG5320 MG8120 MG6120 MG6220 MG6180 MG8180 MG6170 MG8170 etc
3\ NON-STANDARD INKJET PVC CARD SPECIFICATIONS
Parameters

Material
PVC
Chip
Support for adding chips available.
TK4100,EM4200,T5577,EM4305, etc.
Size
85.5 *54mm180x85.5mm,114x54mm,etc.
Suitable printer
Epson or Canon
Key card shape
Custom shape
Suitable Ink
Pigment ink, dye ink, UV ink, eco-solvent ink, etc.
Features
Double-sided printing, quick drying
Applications
ID cards, business card, membership cards, educational ID cards, employee ID cards, promotional cards etc.
Process available
Puncher, laser printing serial number, etc.
Basic skills
Combination PVC material inkjet cassette puncher
4\ INKJET PVC CARD PACKING DETAILS
Packaging & Shipping

Packaging & Shipping

Package
With opp bag and carton. Or on your demand
Lead time
Generally, 3 days for DHL/FedEx/UPS, 10 days for air shipping,18 days for sea shipping.
Delivery ways
DHL , UPS ,EMS , FedEx ,etc.
5\ HOW DOES IT WORK?
How To Print RFID Inkjet White Card By Printer Epson/Cannon?
If you have one Epson or Canon printer with a PVC ID Card Tray and Printable Inkjet PVC cards, you can easily make a personalized card, such as name cards.
You can send your picture to your computer and then connect with the printer. After clicking the print button, you can get what you want.
If you have any questions about Printable Inkjet cards or card trays or how does it work, feel free to contact us!
6\ FREQUENTLY ASKED QUESTION (FAQ)
Q: Can your inkjet cards be printed on both sides?
A: Yes.
Q: What are the restrictions on the use of ink for inkjet cards?
A: For any type of ink, pigment ink or Epson original ink is recommended.
Q: Can I print the card of non-standard card?
A: Yes, but it needs to be customized in advance.
Q: Will there be any loss of color in the finished product?
A: No, our inkjet cards are processed by absorbing ink, waterproof, quick-drying coating, there will be no discoloration.
Q: Are your inkjet cards wear-resistant?
A: Our inkjet cards have strictly tested during the development period and have strong wear resistance.
Q: Now I have an Epson printer that works with your solution. What else do I need?
A: Just buy a matching card tray and printable inkjet white cards.
Q: Do Epson printers that are compatible with your solution require additional modifications?
A: No modifications are required. With the CD printing function of Epson printer, our matching tray can fit with the printer module accurately.