NFC anti-metal tag provides excellent printing protection with glossy thin overlay; laser engraves permanent numbering. Special glue might be used on your project requirement. We can be capable of developing custom anti-metal RFID NFC tags.
Anti Metal NFC Tag with adhesive backing offers good performance after mounted on a metallic surface. The straightforward anti-metal tag provides a fast and direct tagging function for asset management or process control.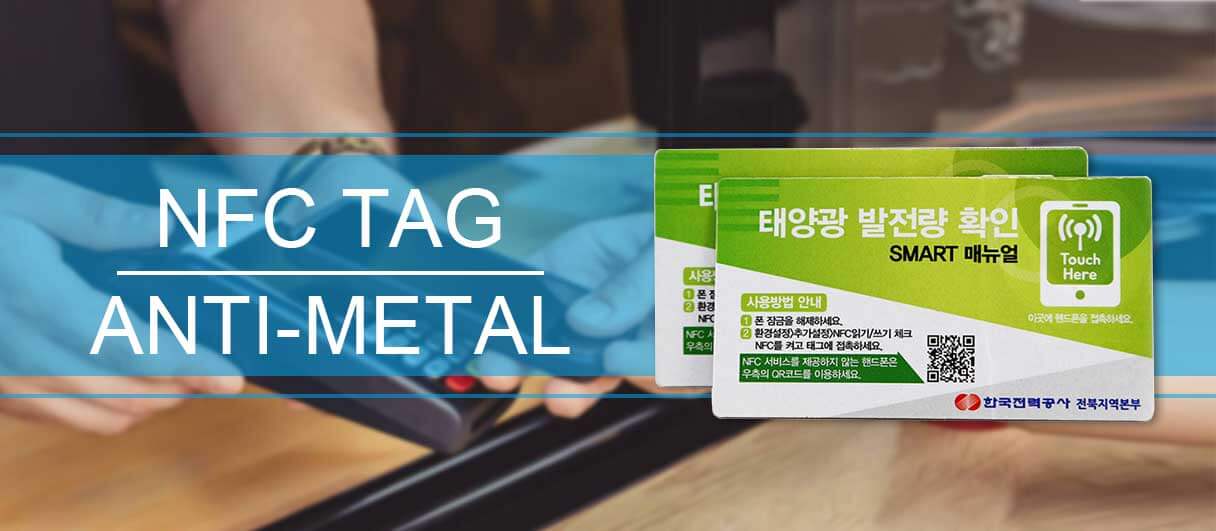 1\ PRODUCT INTRODUCTION
The widespread application of NFC tags is gradually making the Internet of Things a reality. A small NFC tag makes our lives smarter, but ordinary NFC tags have a shortcoming: they cannot work on metal surfaces. Therefore, NFC anti-metal tag was born. NFC anti-metal tag is encapsulated by a special anti-magnetic absorbing material that is immune to metal interference. It also has the advantages of waterproof, acid-proof, alkali-proof, and collision-resistant, you can stick it anywhere, like on the back of your phone, on your refrigerator door or even outdoors.
2\ PRODUCT APPLICATION
Relying on NFC technology, NFC tags can support a variety of applications, including mobile payments and transactions, peer-to-peer communication, and access to information on the move. The NFC anti-metal tag makes it no longer restricted by the metal surface and is more widely used. With NFC mobile phones and NFC anti-metal tags, you can connect with the entertainment services and transactions your want, anywhere, anytime, and on any device, to complete payments, get poster information, and more. In addition to mobile interaction, NFC anti-metal tags are available in warehouse assets management, IT asset management, medical device management, consumer electronics, etc.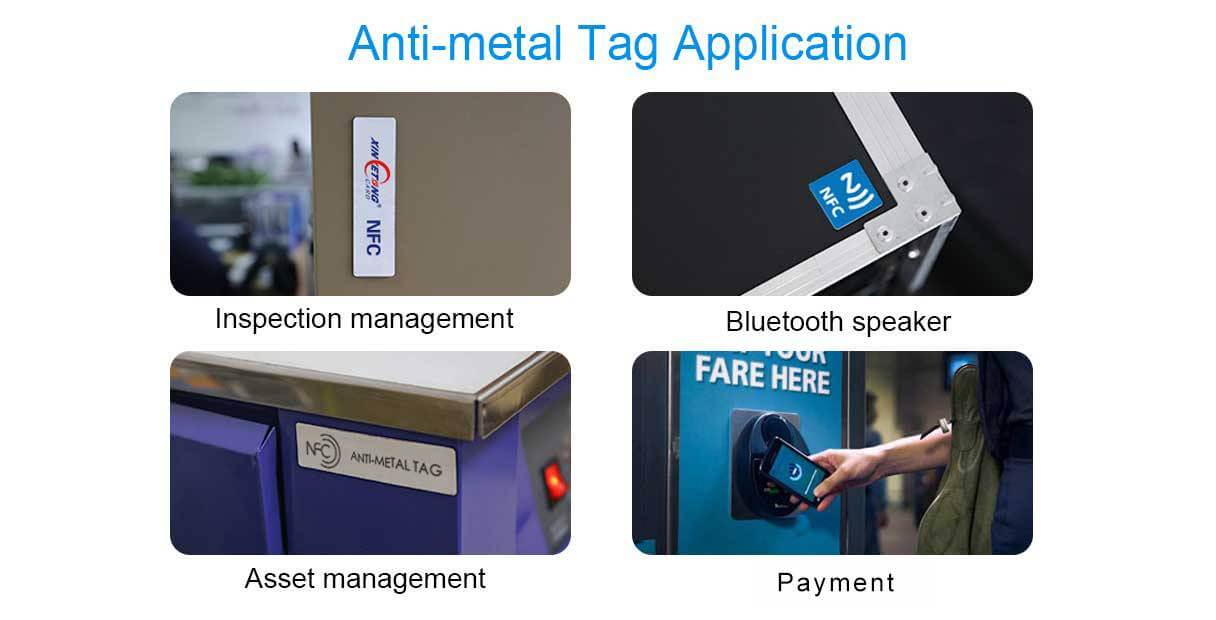 3\ TACHNICAL PARAMETERS
Parameters

Type
NFC
Frequency
13.56Mhz
Operating Temperature
-25℃ ~ 60℃
Storage Temperature
-40℃ ~ 70℃
Data Retain
>10 yeas
Write endurance
100000 times
Packaging
1000pcs /2000pcs /5000pcs per roll
Weight
3KG/1000 piece

Customization Options

Optional Material
coated paper/PVC/PET etc
Available Chips
N-TAG213/215/216,F08,MF S50/S70, etc
Optional Protocol
ISO14443A/ISO15693 etc
Available Size
Square: 18*18MM/35*35MM/45*45MM
Circle: 18MM/20MM/25MM/35MM/40MM/45MM
Rectangle: 12*20MM/15*20MM/15*30MM
Optional Color
Black, yellow, red, green, blue, pink or customized.
Optional Craft
Custom Logo Printing, Laser Engraved(UID Engraved),Serial Number etc.
Value added
Data encoded, UID list provided
4\ PRODUCT VIDEO
XINYETONG has its factory, more than 10 years of experience in RFID production.

In this video, you can see our production process for NFC tags, including chip encapsulation, compound die cutting, offset printing, COB encapsulation, etc.

Our NFC anti-metal tags not only meet industry standards, but also have superior quality. Each tag has passed strict quality inspection before it reaches your hands.

In addition, we are capable of providing customized service of NFC anti-metal tags as you requested.