Why choose Xinyetong? Here, you can get 125 kHz Non-standard Cards with good quality and low price and get to know a reliable partner.
12 Years of Experience. Rich experience and proven technique, you cannot find another professional and reliable partner than us.
Support Customization. Our Non-standard cards come in various sizes, styles, chips, etc. You can get what you want.
High Quality & Inexpensive. Good quality and Low Price is what we always persist to ensure our clients can buy better products at lower prices.

1\ Non-standard Card Description
What is the RFID non-standard card?In short, if it's not a standard card, it's a non-standard card. As we all know, the standard card is the same shape and size as the bank card, rectangular with the size of 85.5*54 mm, but the non-standard card can be any shape and size, circle, oval, square, animal shape and so on.

RFID Non-standard cards can be embedded in a variety of chips, Low Frequency, High Frequency or Ultra Frequency. Now the non-standard card we recommend is LF Non-standard Card, embedded with a low-frequency chip, operating on 125 kHz. You can always see it in your life, such as RFID Keyfob, PVC key card, combo card, etc.
2\ Common Non-standard Card Types
Due to there are no restrictions on size and shape, non-standard cards can satisfy different applications that required different shapes. They are widely used in a variety of exhibitions, squares, conferences, clothing, catering industry, library etc. And the PVC non-standard small cards are often used in RFID fabric Wristbands.

Xinyetong can provide various non-standard cards and support customization. There are some samples as follows.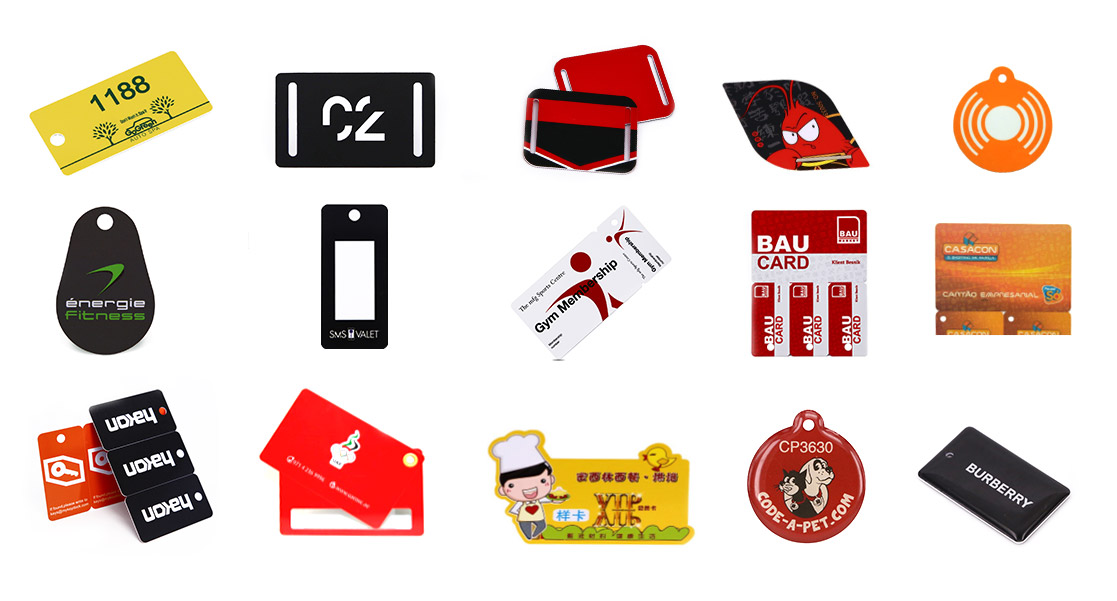 3\ Common Non-standard Card Sizes
Here are some common sizes of our 125 kHz non-standard cards. If you want to know more, please download Xinyetong Non-standard Card Model.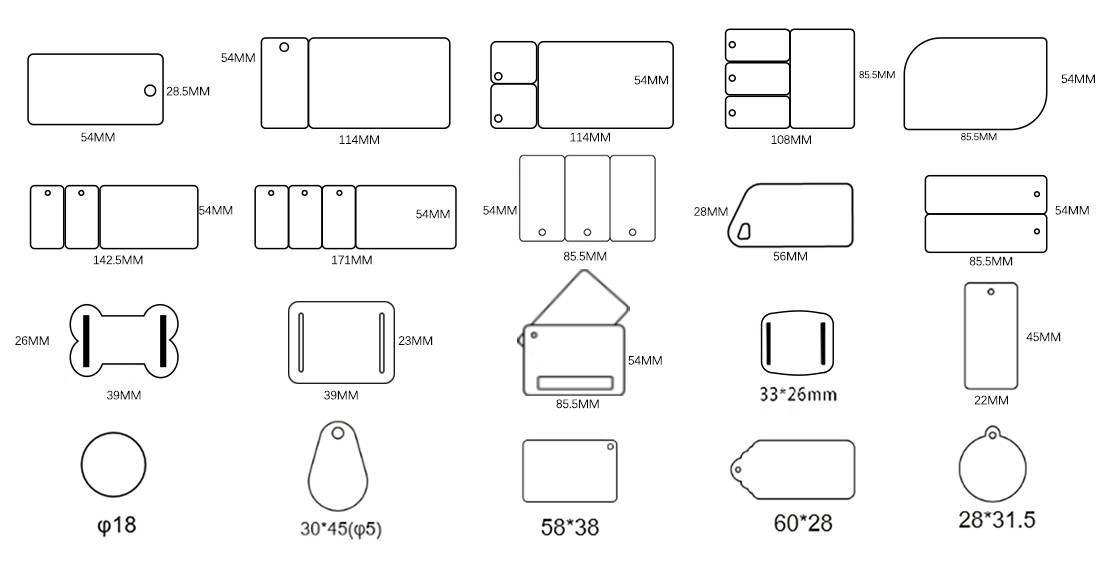 1\ SPECIFICATIONS
Parameters

Item
LF 125 kHz Non-standard Card
Material
PVC, PET, etc.
Chip
LF RFID Chip, like EM4200,TK4100,EM4305,T5577,Hitag2,etc.
Frequency
125 kHz
Size
φ13, φ15, φ18, φ20, φ33, φ42 ,50*50mm, 35*25mm, 58*38mm, 85.5 *54mm180x85.5mm,114x54mm, etc
Color
Custom Color
Key card shape
Custom shape
Printing Options
Full color offset printing, Silk-screen printing, etc.
Surfaces
Frosted, Glossy, Matte Finishing, etc.
Numbering
-UID Code, Series Code, Customized Code -Inkjet, Laser, Flat Numbering, Golden Embossing, Silver Embossing, etc
Crafts Available
1. glossy, matte, frosted laminated/finished, UV varnish
2. magnetic strip(Loco: 300oe, hico:2750oe/4000oe)
3. signature panel and scratch panel
4. QR code, barcode in different types (39/EAN 13/EAN 128…)
5. hot stamping gold/silver color
6. photograph as required
7. personalization: Emboss or thermal print Card Number, member name & expiry date etc.
Samples
Free samples are available upon request
Lead time
Generally, 3 days for DHL/FedEx/UPS, 10 days for air shipping,18 days for sea shipping.
Delivery ways
DHL , UPS ,EMS , FedEx ,etc.